The growing season for 2017 started and ended being rainy. However, the middle was quite dry. Both of these extremes caused some challenges for lawns and landscapes all over.
The spring was wet. It was manageable, but still wet. This helped to green our plants up and helped to keep our water bills lower. It was nice to have the moisture from the spring, because summer was a completely different story.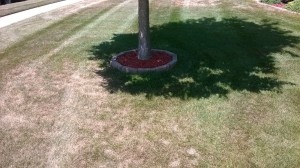 Summer was dry. It was dusty. It was summer. Many lawns and landscapes suffered if they were not getting any water. Even with sprinklers, the lawns and landscapes still were not getting enough water. This carried on into September. There were a few wet periods mixed in, but overall it was very dry.
This fall was very wet, and was warm to start, then very cool to finish. The warm start slowed down the leaf drop for the year. Once we got a hard frost, the leaves seemed to drop overnight. This created the challenge of picking them up quickly, which the wet weather did not seem to help at all.
What will this coming winter season hold? That is hard to say at this point. There are the seasonal forecasts that are currently out, but those have been wrong in the past, so there is no reason for them to be correct now. So, we will just have to wait and see.